Fabio Refosco was born in Valdagno on September 30th 1968.
He lives and works in Trissino (Vicenza).
"There is no such thing as a coincidence" (Gibbs in NCIS) by Bettina Galiotto

There's always a connection, a meaning that transcends life experience. There is a subtle thread binding the invisible to visible, to matter.
The maker of his own destiny who shapes material at his pleasure, shuns "chance". My sensitivity is always in balance between "control" and "uncontrollable". I constantly search for new harmonic relations between water (the vital element) and pigments (matter). My combinations are made of blending and tension, transparencies and dense coats, from which an almost unconscious language emerges.
I stand facing "Other worlds", distant "Horizons", boundaries between earth and sky, "Fields" of black magma where live embryos float; I stand watching biological elements proliferate. Suggestive moments are expressed/impressed on paper with techniques such as decal or with unusual tools: a whisk, soap bubbles. Each "Bubble" hosts visions, suggestions, emotions, parts of ourselves, each has her/his own. My art is a motion of the soul, or perhaps a disease or a therapy. In my proceedings "there is no such thing as a coincidence ": I am the speaker and I choose with a single, precise gesture the moment in which the formless is put in dialogue with form.
… The whip to impress a black flower!
Solo Exhibitions
2023 Istanti Infiniti, And art Gallery, Vicenza
2021 Colors, Banca Mediolanum, agenzia di Arzignano
2017 Paper Impressions, curated by Marco Mioli, Unione Collector, Vicenza
2016 Meeting with the artist, Banca Mediolanum, Arzignano, Vicenza
2015 Margherite Bolle e Tappeti, curated by Giulia Del Cappellano, Culture Live, Paese, Treviso
Margherite Bolle e Tappeti, curated by Marco Mioli, Amatori Design Live, Vicenza
2014 Installation, Spazio Inart, Trissino, Vicenza
2011 Other Mondia edited by Bettina Galiotto, at INART space, Trissino, Vicenza
2011 Other Worlds, multidisciplinary event, at Trissino Civic Library, Vicenza
2003 Line and Color, Proloco Trissino, Vicenza
1999 Personal cure by Resi Girardello, at Proloco Trissino, Vicenza
1998 Personale curated by Antonella Santac, at Artestudio Arzignano, Vicenza
Group Exhibitions
2023 Contamin-azioni, LDM Gallery, Firenze
2023 ArteFiera, Cremona
2023 Baf, Arte e Fiera, Bergamo, Artea Gallery
2023 Expo Arte,Fiera, Monticchiari, Artea Gallery
2022 Baf, Arte e Fiera, Bergamo, AndArt Gallery
2021 Illuminazioni, Miti e Mete, Villa Da Porto Montorso Vicentino
2021 Suitcase Project, Festival I Maestri del Paesaggio, a cura di Erika Lacava 
2021 Workshop, dipingere con le bolle di sapone, per docenti e insegnanti, Centro Zaffira, Rimini
2020 Biennale Do Douro, Douro Portogallo
– Mirror face to face e Mail art Print, Villa Caldogno, Vicenza
– Mirror face to face, Stara' Zagora art Gallery, Bulgaria
– Fragili Equilibri, dipingere con le bolle di sapone, Workshop Museo  Mart, Rovereto, Trento
– Possibili scenari, Spazio Rizzato, Marano Vicentino
2019 .4 di carta Papermade, biennale paper international edited by Valeria Bertesina, Palazzo Fogazzaro, Schio, Vicenza
2019 Suitcase Project, curated by Erika Lacava, traveling exhibition:
– Spazio Rizzato, Marano Vicentino, Vicenza,
– VisioniAltre, Gallery, Venice,
– Artekeyp,Art Gallery, Modena,
– Libreria Sovilla, Cortina D'Ampezzo, Belluno
– Bandera Foundation for Art, Busto Arsizio, Varese,
– Heart-cultural pulsations Art Gallery, Vimercate, Monza Brianza,
– MancaSpazio Art Gallery, Nuoro,
– Studio Bolzani Art Gallery, Milan
2018 Faces- The Faces of Man, by Independent Artists, Villa Brentano, Busto Garofalo, Milan
2017 Hangar Flower, Arzignano, Vicenza
A & Life Gallery, Zurich, Switzerland
2016 Small is beautiful, curated by Erika Lacava, Zoia Gallery, Milan
Myths and Goals, Reactor No. 4 – Chernobyl, Villa Da Porto, Montorso Vicentino, Vicenza
2015 Artists for the Jubilee, Palazzo Maffei Marescotti, Rome
Private Views, Merlino Art Workshop, Florence
2013 Promenade in Greenville, Greenville laboratory, Verona
2012 From sign to language, curated by Sotirios Papadopulos, Caffè Garibaldi, Vicenza
Il Fragilismo, curated by Sotirios Papadopulos, Design Library, Milan
2011 Metamorphosis, Cloister of the Augustinians, Rome
2009 Winter-D'Estate, curated by Graziella Zardo, Galleria Primo Piano, Vicenza
2003 Ex Tempore, Brendola, Vicenza
1999 Espressione Giovani, Arzignano, Vicenza
1998 Espressione Giovani, Arzignano, Vicenza
1997 40 years of the Circolo "La Soffitta", curated by Otello De Maria, Church of S.Giacomo, Vicenza
Fabio Refosco on fragment
Fabio Refosco's artistic path is made of time and layers. Painting becomes a 'plunge into everyday life' through a probing gesture, which is systematically repeated as a necessity. This gesture doesn't seek total control over form, but only partially curbs it, then leaves it unchecked, moment by moment.
Refosco's practice apparently centers on the unpredictability of resins that glide on paper, with a poetic and dramatic gesture that takes shape with an infinity of tiny variations, nuances, volutes and coils. An informal vertigo of black resin on paper, in which the indeterminate is an aesthetic imperative. Each fragment is a moment, a day, an hour, an experience, an intimate journey. An 'act' destined to remain among the acts heaped in Refosco's studio, or to come alive as an anthropomorphic form – in the "skull series" for example- or to be inlayed like a rock fossil into small concrete cubes, or perhaps re-assembled in a mosaic along with many other fragments. The latter drive seems to be the point of departure of "Untitled", a single piece which is subsequently split and then reassembled again into an orthogonal grid, an intimate interlacing of splashes and drips that finally regains its original shape, a circle.

In Refosco's practice there appears to be an effort to "urbanize" lived experience and to encase it in a geometric framework, a sum of scattered micro-events where the general and the particular are often in conflicting dialogue, but nevertheless strain towards a cohesive meaning. It is difficult to forget that the artist's early pieces are about cities. In these works, Fabio Refosco traces orthogonal lines that split the space into squares, where the different color-fields are independent, yet create a collective identity, a general sense. This ongoing dialectic between the particular and the general reveals the artist's deepest quest for a 'scale' in order to observe thoroughly the 'map' of the resin, its paths, its crevices, its emotional trespassing. It is possibly the tension toward meaning and general order in a lived experience made of distant micro events, that drives Fabio Refosco along this intimate, indefinite, reflective path.
Marco Mioli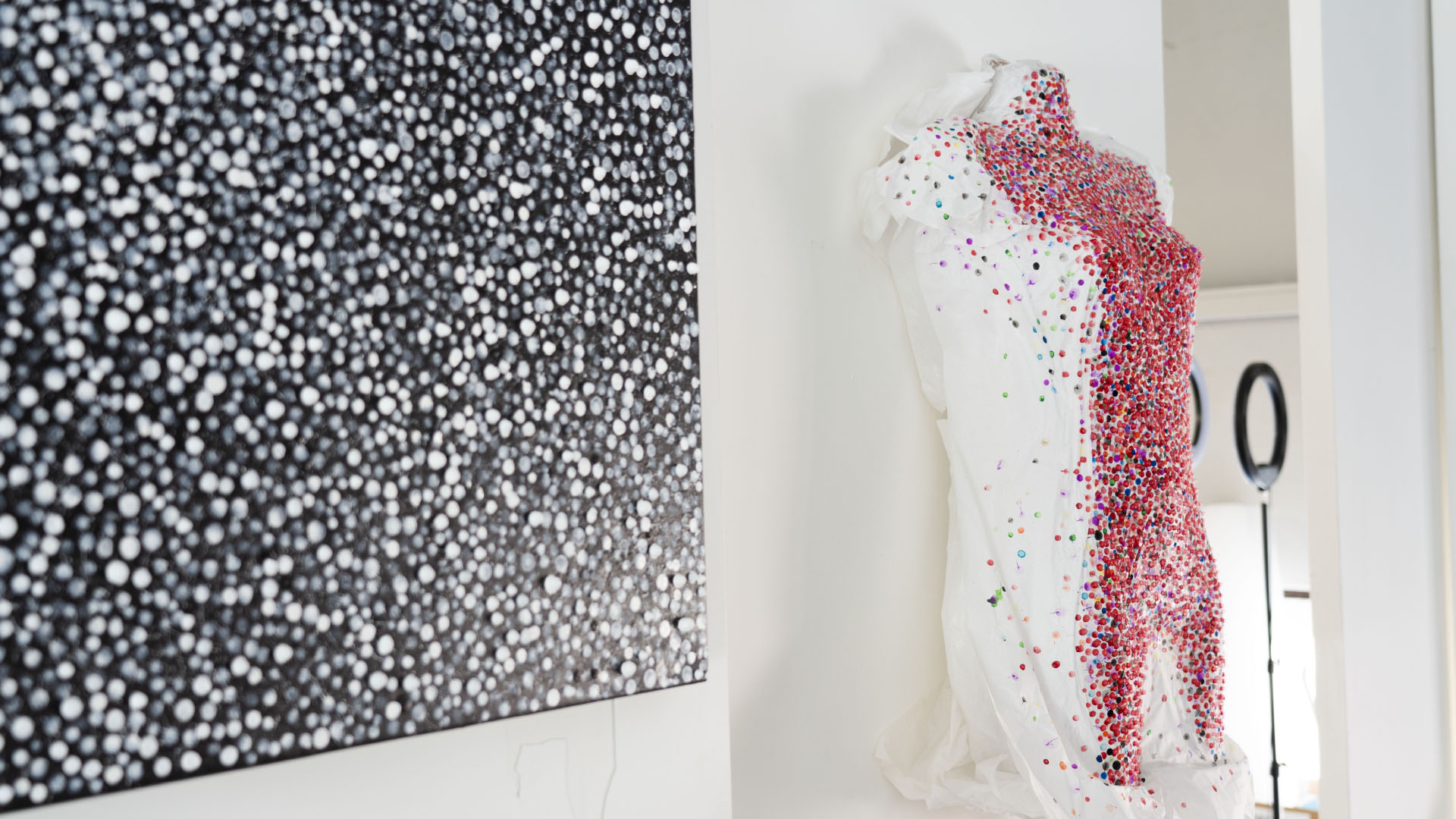 Fabio Refosco: a reflection

Fabio Refosco plays, gambles with chance. Black shapes push their way through a white texture, they cannot exhaust their meaning confined in their own frame: it is as if those 'spots' of color claimed their own genealogy.
Fabio's work is a breath of deep lightness, and a sigh can easily penetrate it. All his work can be interpreted through dichotomies that, however, find complementarity and justification in opposites. The beauty and delicacy of his "Flowers of Evil", for instance, springs from a violent gesture, the stillness of black is charged with meaning only via white density. The bubbles' immaterial lightness, on the other hand, is project-ed as absence, and accomplished through the heaviness and thickness of the cements.
His threadlike daisies are born from a sophisticated gesture: the artist knows from the outset the trajectory of his 'brush', yet he cannot hold back his accomplishments from chance, the unknown space in which probability fulfills its own efforts.
Fabio speaks of a 'free game', which is in fact a scrupulous search for the laws that curb the haphazard. The author's brush is a whip made with a rope, whose brutal snap, when hitting the slab, leaves a mark reminiscent of a delicate black flower. The violence of his gesture is tamed into beauty by chance, and hued with a minimal sentiment, bending to the laws of friction.
All possible interpretations shun caricature and conceptual imperfection, revealing a catharsis instead. Beauty is in the white empty field in between the stems, which makes them stand out. Void, in this case, is the equivalent of color, of a figure or a landscape. The artist deliberately avoids color, exhausting all possibilities with dichromatism.

In the "Bubbles" this process is reversed: the artist lightly blows bubbles made of a mixture of soap and acrylic, that suddenly burst when hitting the surface. Their shape persists, though it is turned into absence, transfigured into a firmament of tiny splashes that soil the surface. One further conceptual cornerstone of the artist's practice emerges from this work: weight and gravity. The bubbles return us to the cements: inert, solid, unassailable forms … yet their solidness prevents them from moving, from floating in the air, from breaking. But if in this process the bubble is destroyed only to be recreated metaphorically on canvas, the cement persists, enclosing and protecting the fragility of a small Plexiglas.

"Mirror" is yet another seminal piece, as it is enclosed inside a Plexiglas shell. It would seem impossible to find a luminous presence in black, yet the plastic material reflects the viewer, who's drawn into the still, sealed tranquility of color, which becomes his/her's complementary part, finally contributing to the completion of the work.
Elisa Mozzelin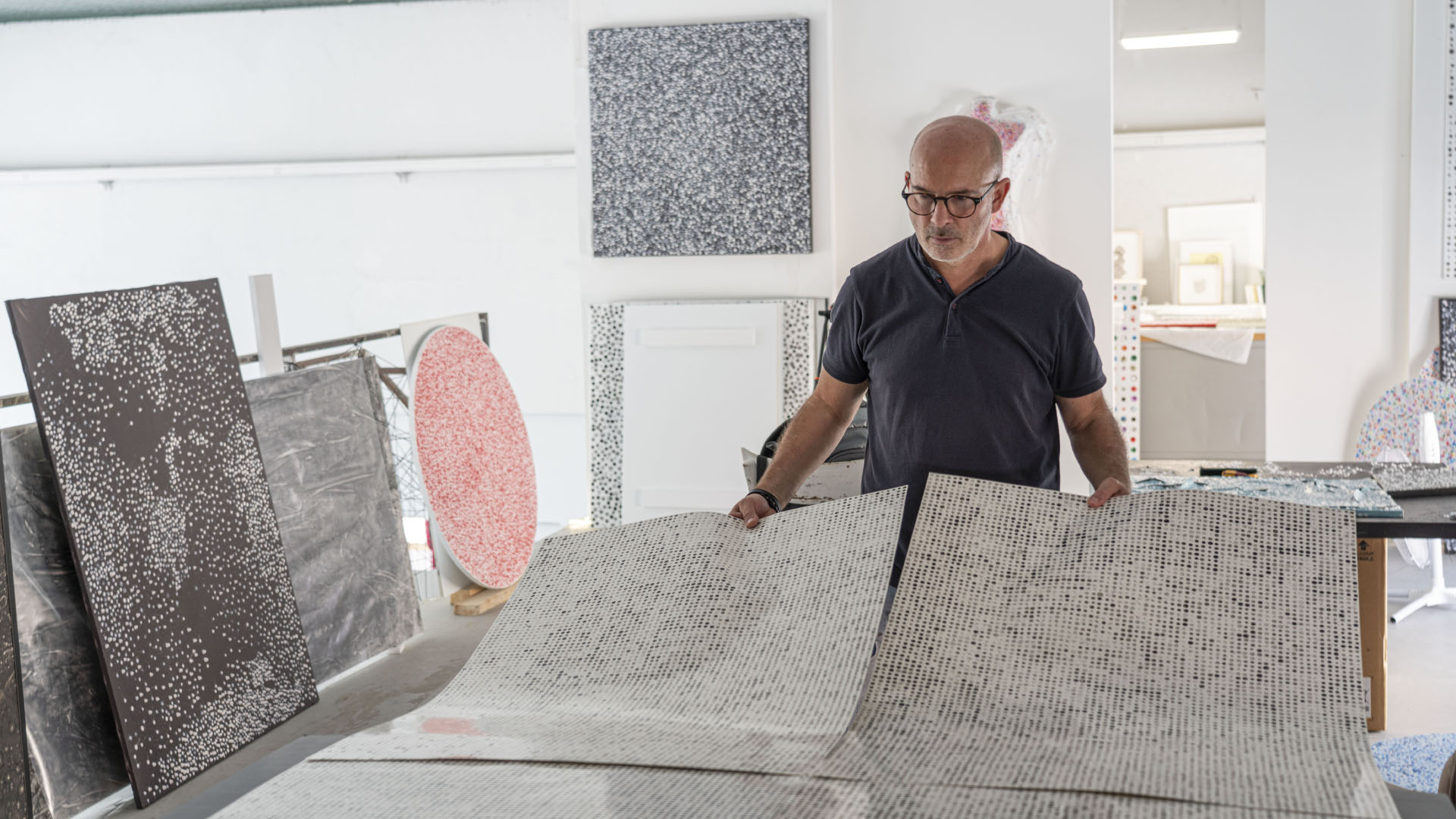 Fabio Refosco trapezist of chance.
Can we self-reflect in black? A sheet of Plexiglas encases a dense color: yet it is only the effect of light reflection. Perhaps this is the core of the artistic research of Fabio Refosco, the artist from Vicenza who in his mostly gestural practice, mimics pairs of antithetical concepts. His threadlike daisies are the product of a sophisticated gesture: the artist knows from the outset the trajectory of his "brush", yet he cannot hold back his accomplishments from chance, the unknown space in which probability fulfills its own efforts.
That 'free play', that's how Fabio describes his work, is actually a study, a scrupulous quest for the laws that rule randomness. The author's brush is a rope whip, whose brutal touch on the slab produces a slender black flower: the violence inherent in this act is turned into beauty by chance and colored with a minimal sentimentality, bending to the laws of friction.
Possible interpretations strip off any caricature and conceptual imperfection revealing a catharsis. The beauty is in that white void that, at once, separates the stems and gives them presence: that void in fact it's color itself, a figure and a landscape. The artist chooses with full conscience not to use other colors, and exhausts all possibilities with just two. In "Bolle" there is an inversion of this process: with a light blow the artist accompanies the bubbles, made with a mixture of soap and acrylic, to the surface and the collision suddenly bursts their shape. The bubble continues to exist, but it turns into absence. It remains positively, at start, soiling the surface, transfigured into a firmament of tiny splashes.
Elisa Mozzelin / Summer 2016 / Art Area Magazine
Fabio Refosco, between a controlled gesture and uncontrollable certainty.
Dear Fabio, in your studio there is a wide range, almost exclusively in black and white, of marks left by scratches, strings, pressures, puffs, splashes of ink on special papers, that give way to a partially channeled process towards certain creative paths. How and when did you turn from the figurative to the explicitly gestural making, even if not completely ruled by randomness?

Fabio Refosco
: I think that since the first works, many different factors led me to a change of direction, in which I was using pure color to create suspended cities, fields outlined in black, making a kind of geometric grid with castles, cities and buildings. Over the years, they gradually disappeared, as I worked towards an increasing synthesis. I needed to find my language. I have always tried to work with my feelings, digging into my unconscious, and after a meticulous research I found an excellent support, paper. My sensitivity is always in balance between 'controlled' and 'uncontrollable', therefore I constantly experiment with new balances between water (vital element) and pigment (matter).
These various generative acts give life to many micro-realities, each with its own exact internal morphology that can be often observed closely with a magnifying glass, trying to identify the evolution, in terms of cause and effect, of each compositional element, projecting it towards new imaginative shores. What effect does it make to look at the world – any one of your microcosms – from the genesis viewpoint?
Fabio Refosco: I feel like a researcher looking at a microscope's slide, catching even the smallest sign of life. For example, by unrolling the "carpets" I constantly experiment new emotions and, in this black magma, I observe embryos of life and biological elements multiplying. In the "fragments", on the other hand, I work on large paper sheets and, with a small magnifying glass, I look for just a tiny detail, which I then enlarge 100 times and project onto a wall. The act of selecting is fundamental because it is equivalent to creating a micro world and only that precise one: the rest is discarded.
Would you like to talk about the "Horizon" project for the traveling Suitcase Project exhibition – does art travel in your suitcase?
Fabio Refosco: For this project, I wanted to bring the "Horizon" series, small works on paper mixing pigment, water and resin. I created these horizons that remind me a lot of landscapes in the Po Valley, small segments of the horizon line where earth and sky meet. Tales of a journey as a passenger by car, after a serious accident. I am forced to make long trips between one hospital and another, and I observe the landscape that runs along the edges of the highway, the fields, the trees, the fog, the sky. It's a poetic work, with small chosen messages that make you to stop and delve into the 'small' in order to imagine the 'big'.
Finally, "where will this journey take you"?
Fabio Refosco: At present, the journey will take me around Italy with another 7 parts of the exhibition. The 'luggage' I carry is certainly richer, especially thanks to the traveling companions I came across so far. It was very stimulating to work at Spazio Rizzato, with Gabriele Cavedon and Alice Traforti, together we found synergy, which gave life to a totally non- inert exhibition, but rather to an extraordinary experience.